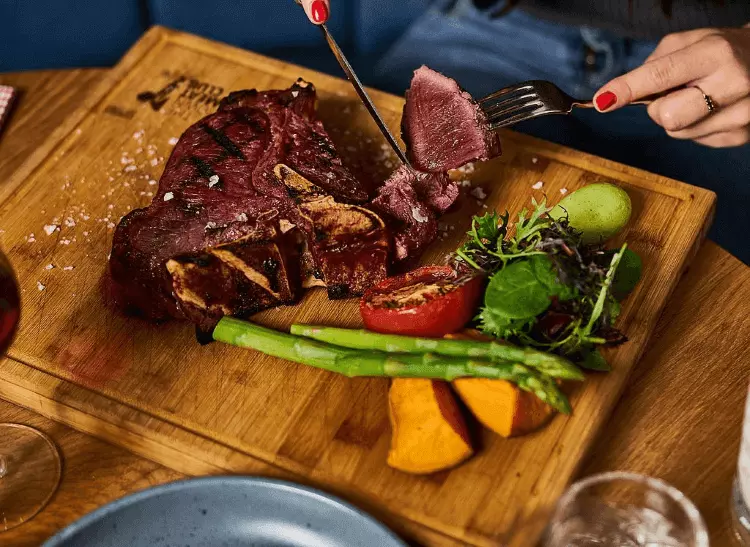 Eating out with a keto diet
Although the keto diet has been around for thousands of years, the diet has recently been gaining in popularity. Central to this special diet are protein-rich and fatty products. Carbohydrates and sugars should be avoided as much as possible. A plate of pasta, a fruit smoothie, a baguette with herb butter or a large portion of fries do not fit within the keto diet. Fortunately, there are plenty of restaurants where you can stay in ketosis and still eat well. The same goes for The Uptown Meat Club!
The keto diet in summary
The keto diet consists for at least 70% of fats and about 25% of proteins. Only 5% to 10% of energy intake is obtained from carbohydrates. This means that fat in the keto diet becomes the main source of energy, while in a regular diet this role is reserved for carbohydrates. So in a keto restaurant in Amsterdam, you can eat bacon and butter, but not quinoa or parsnip. This sounds very contradictory, but there is a thought behind it. Let's take a quick look at the benefits of the ketogenic diet!
Keto-friendly foods
Foods to avoid

Protein-rich products such as meat, chicken, tofu and oily fish
Non-starchy vegetables (including broccoli, celery and cauliflower)
Oils and butter
Full-fat dairy products such as Greek yogurt
Nuts and seeds (including walnuts, hazelnuts and macadamias)

Soft drinks and alcoholic drinks with a lot of sugar
Pasta, rice and bread
Corn, buckwheat and quinoa
Beans and legumes
Starchy vegetables
Milk and low-fat dairy products
Fruits with a lot of fruit sugars such as bananas, apples and citrus fruits
The benefits of a keto diet
Following a keto diet has a number of benefits. For example, the ketogenic diet is used to lose excess pounds, to treat epilepsy or to increase insulin sensitivity. The latter is relevant for people with Type 2 diabetes.
The ketogenic diet has been proven to be an effective weightloss method, because of the reduced carbohydrates. Your body uses the glucose from carbohydrates for energy combustion, and when the glucose reserves run out due to low carbohydrate intake, the body switches to an alternative energy source: fats. Fortunately, a gnawing hunger feeling does not apply to this type of diet. The intake of proteins and fats ensure you don't feel hungry.
Where can you eat keto?
People with a keto lifestyle are wise to do some 'research' before they sit down at the table. Not all restaurants (even in Amsterdam) have something on the menu that fits within a ketogenic diet. For example, it is difficult to find low-carbohydrate dishes in a sushi bar, pizzeria or pancake restaurant. Types of restaurants where you can eat keto are, for example, steak houses, salad bars, seafood restaurants and Greek restaurants.
'Eating out on a keto diet? Scoop up a generous portion of low-carb vegetables (spinach, broccoli or asparagus) and avoid the potatoes, beans and bread baskets!'
Keto restaurant Amsterdam: visit The Uptown Meat Club
The Uptown Meat Club is an excellent option for anyone looking to eat out keto-proof. The Uptown Meat Club is not a full keto restaurant, but our menu does contain many ketogenic and low-carbohydrate dishes. We are also happy to help you make your dishes keto-proof so that they fully match your diet. Prefer no croutons or fig dressing in your salad? No problem. You can indicate your dietary requirements in advance to the service or in the 'Comments' box when you make an online reservation at our keto restaurant in Amsterdam.

Premium cuts of meat
The keto diet is particularly popular with meat lovers. This is because most calories are obtained from protein-rich and fatty products such as oils, meat and fish. For a nice piece of unprocessed, protein-rich meat, The Uptown Meat Club is the place to be. As a meat restaurant in Amsterdam, our menu consists largely of premium beef as a source of saturated fats within the keto diet. Think of rib-eye, bavette and sirloin steak. We also serve poultry such as duck and chicken.
Keto salads with high-fat ingredients
A salad fits perfectly into a ketogenic diet, provided it contains a large amount of proteins and low-carbohydrate seasonings. The salads at The Uptown Meat Club are nutrient-rich and often contain keto-proof ingredients such as walnuts (rich in Omega-3 fats and antioxidants), Manchego cheese (a full-fat dairy product with a high fat percentage of 50-60%), eggs and red meat. Our salads are also easily adaptable to your dietary requirements.
Choose your side dishes and sauces yourself
All our meat dishes are served with a green salad and sauce of your choice. The sauce always comes in a separate bowl, so your food is served without sauce or dressing already on top. This gives you the opportunity to decide for yourself whether you use the sauce and how much of it you take. Due to the cooking in the charcoal oven, the meat has optimal taste, even without extra frills. For a complete dinner experience, combine the high-fat meat with an extra portion of vegetables instead of fries. The menu includes delicious low-carb vegetables such as green asparagus and green beans.

In short: Put The Uptown Meat Club on your list as a suitable keto restaurant in Amsterdam for your next dinner! You can find us near the Vondelpark in the Van Baerlestraat.