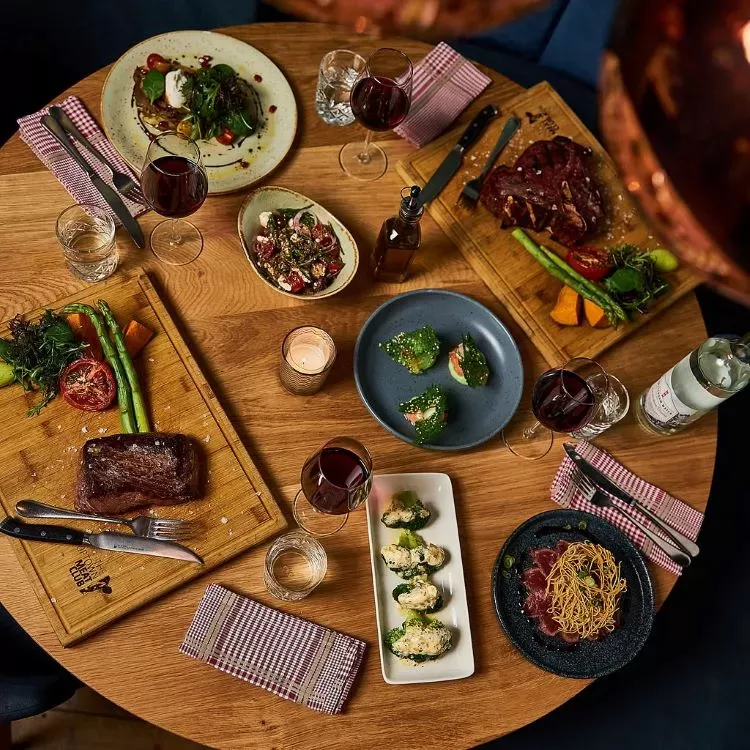 Halal restaurants with trendy design
There is increasing interest in halal food, and there are very specific factors that earn a piece of meat the title 'halal'. The meat must meet strict conditions in which hygiene and animal welfare play an important role. This post explains what makes meat halal and where in our capital you can eat halal in a modern setting.
When is meat halal?
Halal is the Arabic word for clean. In order to bear the term 'halal', food must meet requirements that are consistent with Islamic law. For halal meant, the requirements often relate to the method of slaughter. During the special slaughter ritual, the animal must be treated with respect. The animal must also have had a good life before slaughter. To keep animal suffering to a minimum, the animal is killed by means of one cut in the neck with a sharp knife. The spinal cord should not be damaged. The animal is conscious during the slaughter. An anesthetic may be used, provided it is reversible. This means that if the slaughter is decided against, the animal must be able to regain consciousness.
After the slaughter ritual, the animal must bleed out sufficiently, as blood is seen as unclean. Only then can the meat be further processed. Another requirement for halal meat is the reciting of a special slaughter prayer by the Islamic butcher. In addition, during the slaughter ritual, the head of the animal is placed in the direction of Mecca. If the head of the animal faces Harlingen or Hoogezand, then this condition has been violated and the meat may not be called halal.

A nice cut of meat without antibiotics and hormones
After slaughter, the blood from the arteries is immediately drained and the heart continues to pump for a few seconds. This ensures that most of the toxins are expelled. Halal meat is also free of antibiotics, hormones and other toxic substances. For this reason, halal meat is sometimes considered a healthier alternative to 'normal' meat.
Where can you eat halal?
In Amsterdam, there are plenty of restaurants where you can eat halal. These are mostly steakhouses and traditional Middle Eastern restaurants. Arab cuisine is characterized by the taste explosions of different herbs and spices. For example, meat and vegetables are flavored with saffron, cumin, turmeric and sumac–there is a lot more involved than a pinch of salt. Turkish or Moroccan cuisine is adventurous, versatile and colourful, but not everyone's cup of tea.
Visit The Uptown Meat Club to eat halal in Amsterdam
Increasingly, you can eat halal in restaurants that don't only specialise in Middle Eastern dishes such as harira, tagine or couscous. The Uptown Meat Club is a halal meat restaurant in Amsterdam with a trendy and contemporary interior. Our menu includes dishes such as T-bone steaks and tenderloin salads, and you can enjoy a carpaccio or steak tartare beforehand. In our restaurant, we cater to various dietary requirements (including gluten-free and vegetarian) so that everyone feels welcome. And now, thanks to our halal certification, you can now safely put The Uptown Meat Club on your list of suitable halal restaurants in Amsterdam!
Halal certified
All our meat comes from the Ameco slaughterhouse in Apeldoorn. A beautiful family business with a focus on the traditional Dutch dairy cattle, Ameco is halal certified (you can view the certificate here). All cattle are stunned before slaughter. The anesthesia takes place in a special anesthesia box to keep the stress on the animals as low as possible.

Are you looking for a cozy halal restaurant in Amsterdam for a dinner with friends or family? Come visit The Uptown Meat Club! You can find us near the Vondelpark in the Van Baerlestraat.